January 1, 2011, I started a journey through the book of John with our Citadel congregation. I expecuted this study to last only a few months. The deeper we looked into the man Jesus, the more we realized who He was walking on the earth, who He is at the right hand of The Father, and who we are in Him. It has been nearly 2 years now and we have barely scratched the surface of the mystery of the Christ and His work on the earth. This teaching is broken into two parts. The Light PT 1 covers John chapters 1-13 and reveals to us the Jewishness of Jesus and the powerful revelation of fulfillment of prophetic promises of God. The Light PT 1 takes us back to the Law and prophets to reveal to us Jesus in its text.
The Light Pt 2 is what we have studied in 2012, which is John chapter 14. The Light PT 2, is the revelation of how to do greater works than Jesus Himself. We cover what that means and how to reach such an audacious goal as becoming greater than the Christ in works. It's what He said and we must fulfill His desire. I would like to offer these life changing messages to you so that you too can walk as Jesus walked on the earth.
The Light PT 1 (48 messages)
 The Light PT 2 (40+ messages)
  The Light PT 1&2 (88+ messages)
Followership is a dynamic resource for building world-class teams and developing high performance people. Read Follewership and unleash the power of greatness into your company and ministry.
 Followership Book $17.00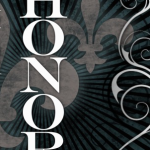 Step into your next level of authority through Honor. Restore Honor in your home, work and ministry. Honor is the very key to walking in favor.
 Honor 9 CD set $45.00
To many Christians, being successful and prosperous in the world means forsaking the purposes of God. In Becoming a Pioneer of Success, Tracey Armstrong shows that success isn't just a godly calling– it's a destiny that God desires for every Christian! This book will teach you how to draw upon the wellspring of divine creativity within you to fulfill the destiny of success and happiness that God has waiting for you. You will learn how to win at the game of business without sacrificing your morals or "selling out." Are you looking for success but don't want to lose sight of the Lord? Then you are ready to become a pioneer of success!
 Becoming a Pioneer of Success $15.00
Immerse yourself in the Kingdom of God. Learn how to walk in all 3 Kingdom Baptisms. Baptism of water which empowers us to walk free from the desires of the flesh and temptation, baptism of the Holy Spirit which empowers us to rise above previous limits both in the natural and the realm of the Spirit and finally the baptism of fire which produces influence and miracle working power on every level.
 Kingdom Baptism $15.00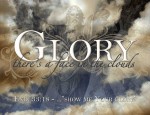 There is more to the glory of God than His presence and power. Yes, God's glory makes His and our enemies melt like wax and those who worship Him fall to their knees; even more His face is in the glory. God's expression is found in His glory. Learn how to go deeper into the presence of God to discover what is hidden at His throne. The presence is simply God's perfume lets journey to the center of the glory cloud to discover a deeper and a more intimate revelation of God and His love.
 Glory $30.00
By Nathalie Armstrong
Faith is the pedestal of hope. In this faith inspiriting teaching Nathalie Armstrong gives you nuggets of wisdom that will kick-start a gift of faith that will enable you to access anything that you desire. Experience your healing, family salvations, next level, favor and overall breakthrough in any area of life. Faith is the currency of heaven, its time to build heavenly wealth as you develop great faith.
 Faith $7.00
Building Wealth is not an option for the furtherance of the gospel. The focus of the 2010 BIG conference was that God has a plan for not only survival of the recession but a plan of increase and wealth building. Our conference speakers Rabbi Daniel Lapin, Joel Luce and Tracey Armstrong lead us into God's blue print of wealth building and prosperity that will work even if there is an economic crisis. Discover your wealth building skill as you listen to BIG 2010.
 BIG Wealth Building Conference $45.00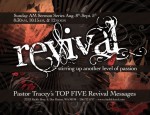 We have all heard that revival starts in you heart. Have you ever wondered how to get a revival started in your heart that could spread into your family, work place, neighborhood, city and even the nations of the world? Tracey preaches his top five classic messages from his traveling on stirring up the spirit of contagious revival that will totally wreck you for God, for the rest of your life.
 Revival 5 CDs $25.00